Milena Gajić, piano teacher and performer, began her musical training in piano at the age of six and was soon discovered to have an exceptional musical talent. She finished her Master's Degree at the University of Belgrade. She has been awarded a number of prizes since the early 80's. Milena has been performing and teaching on three different continents: Europe, South America and North America. Her students have been awarded at various international competitions in Europe (Italy, Switzerland, France).
In 1996 she performed Liszt's Concerto for Piano and Orchestra in E flat major with the Symphony Orchestra of Radio and TV Serbia with maestro Jurij Aliev, and Haydn's Concerto for Piano and Orchestra in D major with Academy of Arts Orchestra Novi Sad, conducted by maestro Mladen Jagust. She has given numerous solo Concerts and recorded for radio and television.
Milena Gajić is a registered piano teacher at the Royal Conservatory of Music in Toronto, with the prestigious Advanced Specialist - Piano designation. Currently she teaches piano, theory of music, harmony, music history, chamber music, sight-reading and keyboards at her piano studio in Toronto, Canada. The studio is open to children of all ages as well as adults. She emphasizes the importance of teaching music to young children using creative, fun and contemporary techniques.
Mrs. Gajić also has an international career playing concerts and recording, most recently with violinst and composer Aleksandar Gajić, the Welsh tenor Gwyndaf Jones, and pianist Sanja Stefanović (Germany).
In the summer of 2013, Milena Gajić worked with Ms. Olga Kurylenko, a Ukranian-born French actress and model who played as a Bond girl in the 22nd James Bond Film, Quantum of Solace (2008), as well as with Tom Cruise in the movie Oblivion (2013). In Belgrade, Mrs. Gajić worked privately with Ms. Kurylenko, as well as being on set for the shooting of the upcoming movie The November Man (2014), which features Pierce Brosnan. Ms. Kurylenko has scenes in the movie where she plays the piano, and she wanted professional help as she had not practiced piano since she was little. Below is a picture of Mrs. Gajić (left) and Ms. Kurylenko (right) after a private lesson held in Belgrade, Serbia.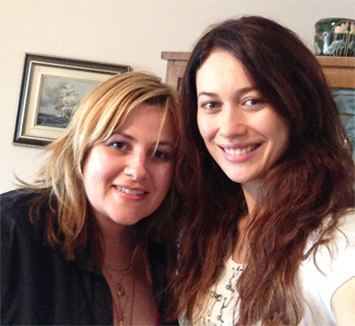 Milena Gajić is the recipient of the "Teacher Certificate of Recognition" award in honour of extraordinary accomplishment for the 2012/2013 season in Ontario, from The Royal Conservatory of Music, Canada.